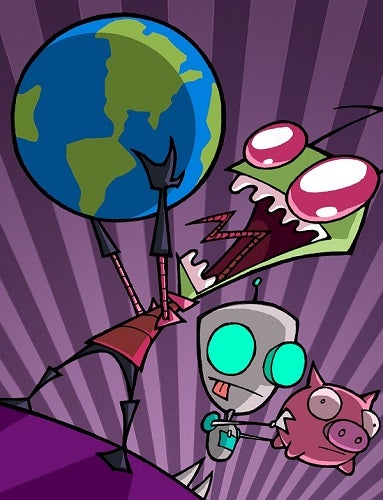 In case you haven't heard the good news, Invader Zim will be returning to Nickelodeon! While no time frame has been given, Nickelodeon has announced that a for TV movie is in the works. Few details have been released so far, except that the original voice actors will return and the trailer shown below.

Invader Zim originally aired on March 30, 2001 and ran for two seasons. The show was created by Jhonen Vasquez and followed the adventures of an alien named Zim as he tried to conquer Earth. However, he is often met with mishaps resulting in failure due to incompetence on his part or by involvement of his human rival, Dib. The series quickly gained praise and a cult following, even winning several awards.
There is no confirmation of a series renewal yet, but fans remain hopeful. Lately there has been a trend of networks reviving cancelled shows. Cartoon Network's Adult Swim recently released the new season of Samurai Jack thirteen years after the original runs cancellation. Nickelodeon is also planning to release a Hey Arnold! and Rocko's Modern Life movies as well.
Can't wait for the movie? The entire series is available to stream on Hulu. Currently Hulu is offering one month free trials as shown in the link below. An Invader Zim comic series was also released in 2015, continuing with monthly installments. Again, link provided below for anyone interested in purchasing it.
And as always, thanks for reading!
Duninn
Eric Wilusz