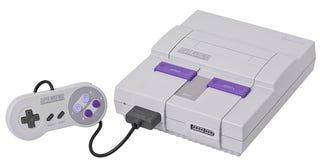 That's right, Nintendo is developing an SNES Classic for release this holiday season. The news was originally released by Eurogamer, whose sources close to Nintendo has confirmed the development of the SNES. While Nintendo hasn't officially announced the SNES yet, Eurogamer has proven accurate with Nintendo leaks.
No other information has been given thus far, so I cannot say what games will appear on the new system. Though when compared to the NES, the SNES had a much stronger lineup. We could even see games like Donkey Kong Country, Contra II, Mortal Kombat, and Chrono Trigger on the new device. Though we can probably say with certainty that Mario and Zelda will be present.
Some speculate this is the reason the NES Classic was discontinued. Polygon has reported the chipset in the NES Classic was more advanced than a 3DS and could easily emulate other systems. For Nintendo to use this chipset on a new library of games makes sense, further expanding their market.
If this trend continues, we may even see a classic edition of the N64 in the future. But for now we will focus on the SNES Classic and update as more information is revealed. Let's just hope they don't have a shortage of consoles this time around.
Thanks for reading!
Duninn.