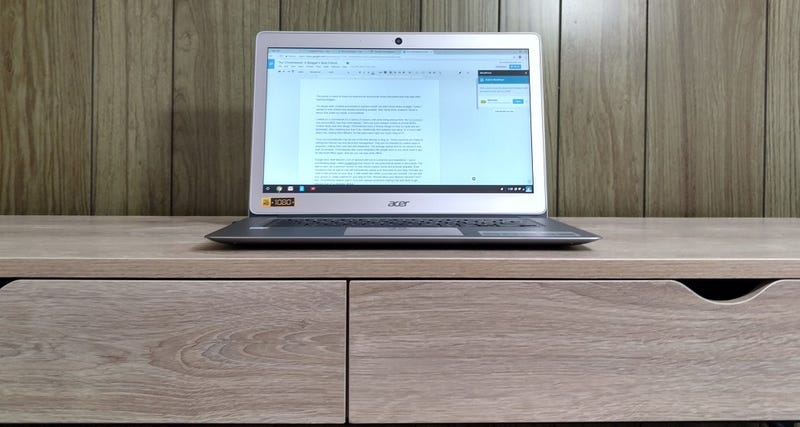 This article is meant to share my experiences and provide some information that may help other aspiring bloggers.

I've always been creative and wanted to express myself, but didn't know where to begin. I knew I wanted to write articles and needed something portable. After doing some research I found a device that suited my needs: a Chromebook.
I settled on a Chromebook for various reasons, price being among them. My Chromebook cost around $300, less than most laptops. There are even cheaper models at around $150+. Another factor was their design. Chromebooks have a fanless design so they run quiet and are lightweight, often weighing less than 5 lbs. Additionally, their batteries last about 8-12 hours with heavy use, making them efficient. So the specs were right, but could I blog with it?
Turns out Chromebooks may be one of the best devices to blog on. These machines are made for nothing but internet use and document management. They are not impeded by useless apps or programs, making them very fast and responsive. The average startup time for my device is less than 10 seconds. Chromebooks also come integrated with google docs so you never have to pay for Microsoft Office again. And yes you can type while offline.
Google docs itself features a ton of optional add-ons to customize your experience. I use a proofreading plugin called GradeProof that checks for any grammatical issues in documents. The add-on also has a premium version to help reduce unnecessary words and promote eloquence. Even WordPress has an add-on that will automatically upload your document to your blog. Perhaps you need to edit pictures for your blog. A web based site called Canva has you covered. You can edit your photos or create material for your blog for free. Worried about your device's security? Don't fret. Chromebooks feature built in virus and malware protection making it far less likely to get infected than a windows' device.

But the Chromebook's best feature isn't advertised. The main reason I bought this device was so I can type without distractions. Since the Chromebook has limited features I know I won't lose focus and play a game or constantly check social media. Instead, I can finally sit down and work distraction free. I will admit I have bad impulse control, making the Chromebook the perfect device for me.
I am extremely satisfied with my Chromebook and would recommend one to any blogger. I work with it daily and haven't run into any issues. So if you are considering starting a blog or perhaps need something more mobile seriously consider a Chromebook. You might thank me later.
Feel free to share any experiences you have had with Chromebooks below in the comment section. And as always thanks for reading!
Duninn.

Please support the above link!